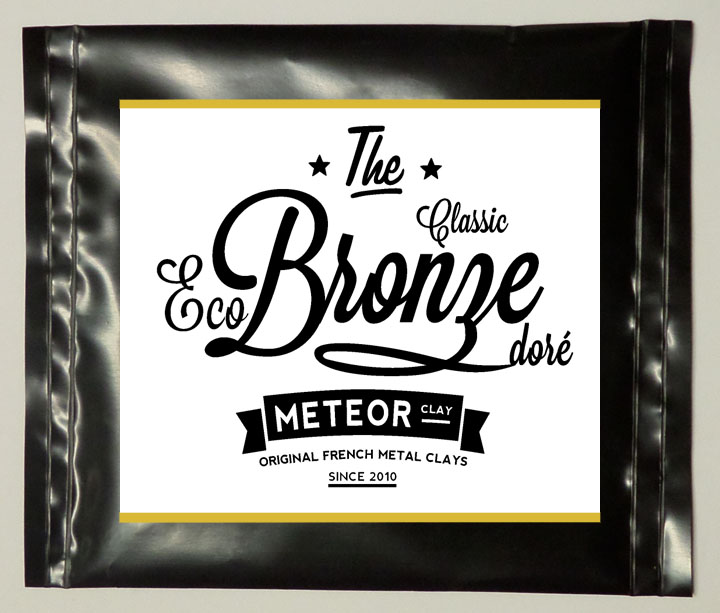 Eco gold bronze classic
Availability : In stock, next-day shipping
5,90€ inc. tax
Eco bronze is a new low-cost concept.

It is about our traditional powder of classic bronze, in an ultra-economic packaging.
Add 15 grams of water (that is approximately 5 coffee spoons), mix, it is ready!
Debinding phase at 350°C (662°F) ; firing in the charcoal at 830°C (1500°F) ( recommended but not essential landing).
Livre d'or
Françoise Zainal
On 2019-09-09 14:33:13
j bonjour en retard pour mes 2 mots de remerciement. Vos 2 derniers envois étaient parfaits, arrivés ...
Eric Jouquan
On 2019-08-20 13:14:54
Bonjour, Commande conforme et nombreux cadeaux ,merci beaucoup
chrysablue
On 2019-08-13 10:24:08
Efficaces, sympas et rapides ! tellement plus que moi pour partager enthousiasme et gratitude ! Merci ...
Ninon Boutry
On 2019-06-15 11:25:45
Merci pour cette commande et ces supers cadeaux. Encore un plaisir de commander chez MétéorClay
Christelle SEGUY-VIGNE
On 2019-05-15 09:25:49
Parfait, comme d'habitude. Envoi rapide et soigné, petit cadeau,... Merci
mireille Deschamps
On 2019-05-02 16:43:47
Ça y est, première cuisson. Super, je suis ravie du résultat de mes pièces prémium cuivre .
mireille Deschamps
On 2019-04-17 16:35:25
Reçu ma commande très rapidement, je vais l'installer et me mettre au travail. Merci pour les cadeaux ...
Jerome
On 2019-03-05 19:51:19
Toujours content des produits, du service, du suivi, de la rapidité de livraison...Un grand merci, v ...