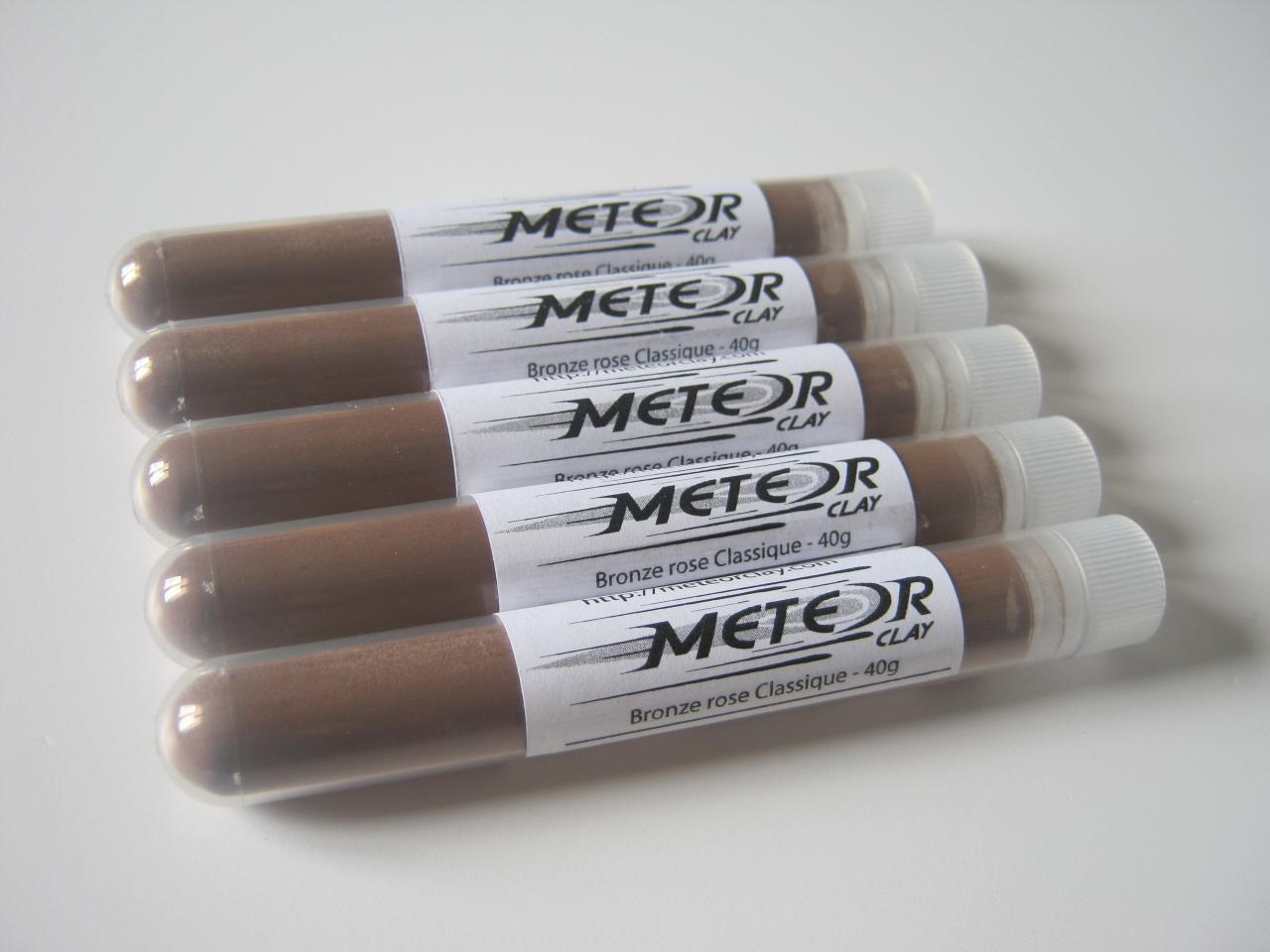 Meteor Pink Bronze - Classic
Availability : In stock, next-day shipping
19,90€ inc. tax
Condition : new
Packaged in 5 flasks of 40g. This preparation allows to realize 220g of ready for use clay.
After rehydration (2 volumes of powder for 1 volume of water), is used as a traditional clay !
After drying, a firing in 880°C (1616°F) gives an object 100 % pink bronze perfectly solid!
In the state of powder, the preparation can of years. It is recommended to prepare only the just quantity of necessary clay for a working session.

A hydrated claycan preserve several months in the freezer.
Livre d'or
francoise Adam
On 2018-09-12 16:08:14
tout est arrivé rapidement....et tres bien emballé. en plus un petit cadeau bien utile. à bientot pour ...
L. Hex
On 2018-09-12 10:51:00
commande impeccable, l'équipe est toujours là pour répondre aux questions. Rapide, propre, bien emballé, ...
Celine Gaspard
On 2018-08-30 01:30:43
Ma commande est arrivée très rapidement, accompagnée d'un petit cadeau, merci beaucoup! J'adore ces pâtes, ...
Françoise Zainal
On 2018-08-01 22:49:07
Comme d'habitude, c'est arrivé très vite merci beaucoup et merci pour le cadeau :-) Fran
Patricia Dulieu
On 2018-06-06 10:09:05
Bonjour,commande bien arrivée,merci pour le petit cadeau,prête à essayer,et vous donner des nouvelles. ...
Sophie DUREL
On 2018-05-05 09:03:09
tout est bien arrivé, MERCI pour le remboursement des frais de port en trop et pour le petit cadeau ...
Yamina Yahiaoui
On 2018-03-11 10:34:39
Très contente d'être tombée sur meteor clay moi qui voulait faire des bijoux avec la pâte car c'est ...
Sophie DUREL
On 2018-03-08 17:28:18
Bonjour ! Mon M40 cloud est bien arrivé ... tout est ok (et merci pour le bol en inox). Je viens de ...