Home

/

Store

/

Sample pack 4 colors - Classics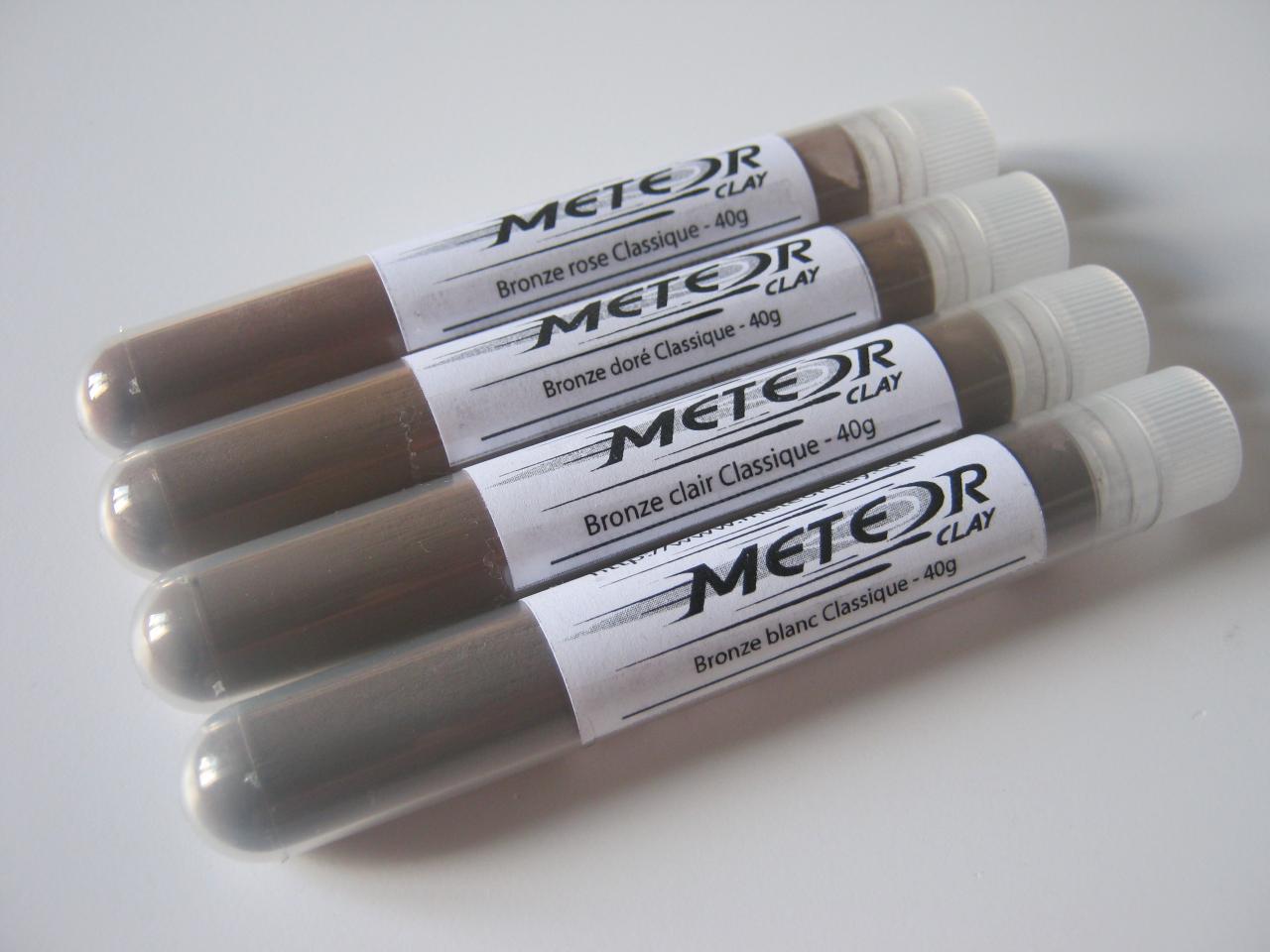 Sample pack 4 colors - Classics
Availability : In stock, next-day shipping
19,90€ inc. tax
Packaged in 4 flasks of 40g.

This pack contains a flask of every bronze color: 40g of golden bronze, 40g white bronze, 40g of pink bronze and 40g of clear bronze.

In the state of powder, the preparation can of years. It is recommended to prepare only the just quantity of necessary clay for a working session.

A hydrated claycan preserve several months in the freezer.
After drying, a firingin a high-temperature oven (Météor M20 for example) gives an object perfectly solid !

Guaranteed pure bronzes and Copper without nickel.

Ideal for the manufacturing of rings, pendants, bracelets, earrings, medals etc....
A detailed instructions for use will be joined to the sending.
Livre d'or
Françoise Zainal
On 2018-12-23 23:18:51
Comme d'habitude, arrivé très vite et en plus un cadeau merci beaucoup j'accuse reception assez tard ...
Morgan
On 2018-12-08 18:32:33
Ma commande est arrivée très rapidement et parfaitement emballée. Merci pour les cadeaux! Morgan
nicole lionel roudaut desoeuvre
On 2018-11-12 17:16:22
relation téléphonique super top ,ma commande rapide et les petit cadeaux bien agréable ,premier contact ...
GERARD BOCCHECIAMPE
On 2018-11-10 15:00:32
colis bien reçu avec petit cadeau merci, maintenant il faut me mettre au travail !
Sophie DUREL
On 2018-11-06 18:53:10
Bonjour, Commande bien arrivée, soigneusement emballée comme toujours, avec le petit cadeau ! Merci ...
Christelle SEGUY-VIGNE
On 2018-10-23 15:26:41
2 commandes successives rapides et soignées avec un cadeau à chaque fois. Merci beaucoup.
Françoise Zainal
On 2018-10-10 14:45:07
Ma commande est arrivée très rapidement et parfaite comme d'habitude. Merci pour les cadeaux. Fra ...
Angelique Godefroy
On 2018-09-28 14:20:05
Commande reçue rapidement, avec un petit cadeaux en plus ( j'en avais justement besoin). Merci