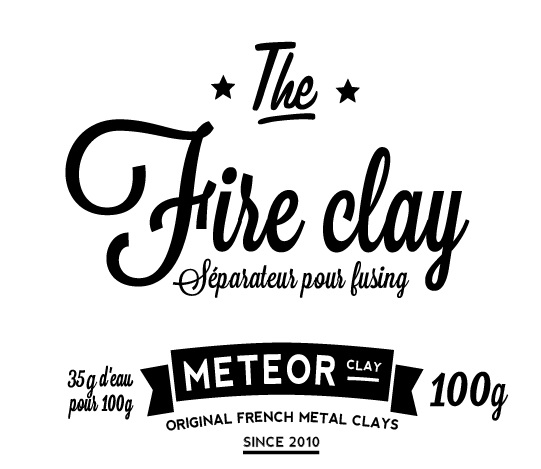 Fire clay : shelf primer
Availability : In stock, next-day shipping
1,90€ inc. tax
Condition : new
Binder to realize at your home-made metal clay.

This binder also allows to get back a old hydrated clay which lost its plastic qualities.

Dose of 30g to realize more than a kilo of ready for use clay (approximately 20g for 1 kilo).
Livre d'or
nicole lionel roudaut desoeuvre
On 2018-11-12 17:16:22
relation téléphonique super top ,ma commande rapide et les petit cadeaux bien agréable ,premier contact ...
GERARD BOCCHECIAMPE
On 2018-11-10 15:00:32
colis bien reçu avec petit cadeau merci, maintenant il faut me mettre au travail !
Sophie DUREL
On 2018-11-06 18:53:10
Bonjour, Commande bien arrivée, soigneusement emballée comme toujours, avec le petit cadeau ! Merci ...
Christelle SEGUY-VIGNE
On 2018-10-23 15:26:41
2 commandes successives rapides et soignées avec un cadeau à chaque fois. Merci beaucoup.
Françoise Zainal
On 2018-10-10 14:45:07
Ma commande est arrivée très rapidement et parfaite comme d'habitude. Merci pour les cadeaux. Fra ...
Angelique Godefroy
On 2018-09-28 14:20:05
Commande reçue rapidement, avec un petit cadeaux en plus ( j'en avais justement besoin). Merci
francoise Adam
On 2018-09-12 16:08:14
tout est arrivé rapidement....et tres bien emballé. en plus un petit cadeau bien utile. à bientot pour ...
L. Hex
On 2018-09-12 10:51:00
commande impeccable, l'équipe est toujours là pour répondre aux questions. Rapide, propre, bien emballé, ...